Article written by Cécile Prudhomme and published in Le Monde magazine on 20 june 2022
In recent months, many retailers have developed live demonstration sessions on the Internet to promote their products. A concept from China that allows to trigger more purchases on the Internet.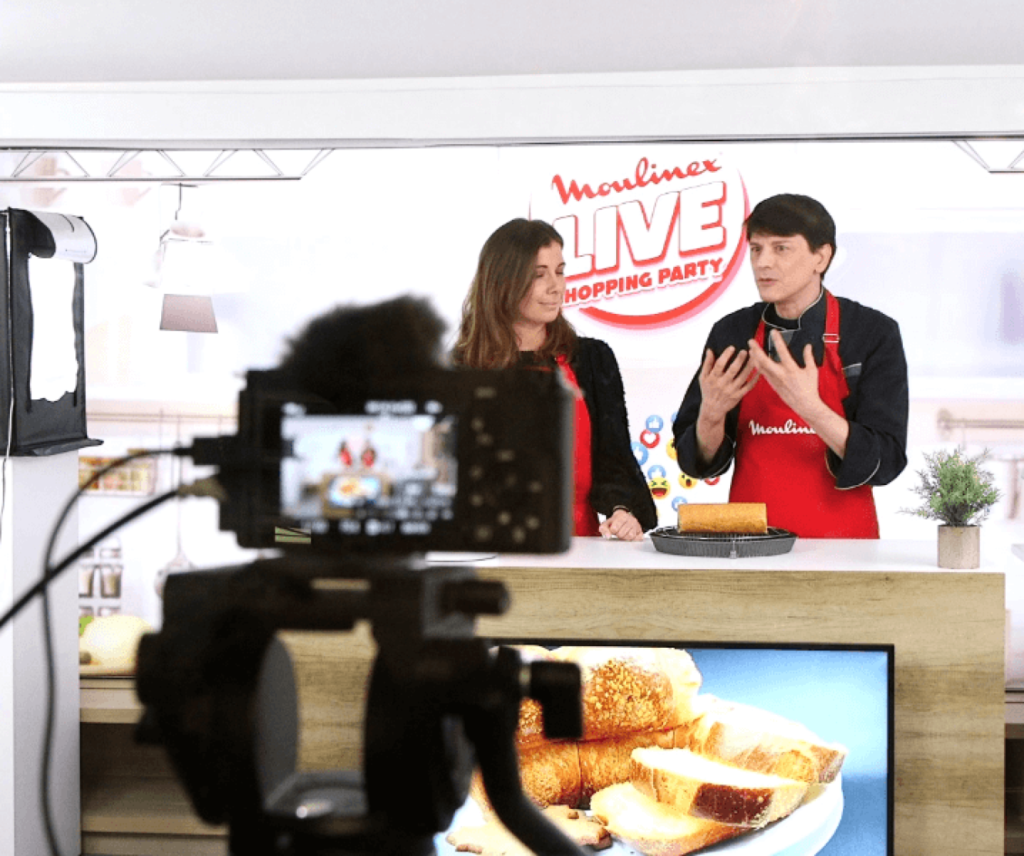 "Hello everyone. We're delighted to have you back for this Moulinex "live shopping" (…) with this blender, you can do unexpected things (…) it will make your life easier". In a kitchen setting Lydie and Chef Fred, the two hosts in red aprons, are rehearsing a live demonstration session on Thursday 12 May, which will be broadcast in a few minutes on the Moulinex website and its Facebook account. For half an hour, they will praise the merits of a household appliance by making recipes in front of Internet users, who will be able to ask them questions and… immediately buy the appliance thanks to a short-lived promotional code that will reduce its price by 50 euros, or 26%.
In the adjoining room, which reproduces the atmosphere of a trade fair, two presenters are waiting to demonstrate Samsung's ultra-flat TV screens to visitors to the Fnac website. The next room is entirely dressed in pink and white. The illusion is perfect. It's like entering a Dior boutique. On the luxury brand's website, a user initiates a call with a consultant. Immediately the camera is switched on for a personalized live shopping session.
This "live shopping" factory has been installed since April 2021 in an office's basement a few meters from the Arc de Triomphe in Paris. Halfway between teleshopping and Tupperware meetings, this concept of live Internet demonstrations for commercial purposes is very popular in Asian countries.
« LACK OF HUMAN ADVICE »
In China, this market, which weighed 171 billion dollars (163 billion euros) in 2020, should reach 423 billion dollars by the end of 2022 according to McKinsey for whom "sales made through live-commerce could represent up to 10% to 20% of all e-commerce by 2026", at the global level. In France, some sessions, with the help of advertising and muses, have succeeded in gathering up to 12,000 live spectators.
Here, on 1,534 square meters, the company Globe Groupe, which designs stands in points of sale, has built around thirty showrooms for live shopping for approximately forty brands. Sixty sales representatives can even answer calls until 11pm. "This is the time when you buy online and need advice," explains Jeremy Dahan, who founded Globe Groupe in 2002.
The lockdown during Covid and the closing of shops gave a boost to this mode of demonstrating and buying products. Since then, the phenomenon has accompanied the development of online commerce and its 42.7 million followers in France. And this type of video session helps boost sales.
The first obstacle to buying on the Internet is the lack of human advice," says Mr Dahan. When there is interaction, the average shopping basket is 2.5 times bigger for the same product than when people are left to their own devices. Research firm Gartner estimates that the proportion of Internet users who decide to make a purchase by visiting an e-commerce site is only 1 to 1.5%, but this rate jumps to 15% to 35% when Internet users view content.
« BEWARE »
"We have two to three times more views on replay than on live in the first month. And we sell three times as many products in the category during the week following the live show," confirms Vincent Berry, marketing director of Groupe SEB France. It has to be said that these live videos are an opportunity to push Internet users to buy, with a lot of discounts. JouéClub does not have a promotional code and, since April 2021, has been organizing one live shopping session per month to present the leading toys of the moment, but rather a competition to win one of the products presented. Each video attracts "between 150 and 200 live viewers and more than 20,000 views in total with the replay," says Annaïg Jermelus, digital marketing manager at JouéClub. On average, 5% to 10% of viewers buy the toys presented on the JouéClub e-commerce site.
A sign of the interest of this communication channel is that some distributors include it in their commercial negotiations with brands, to put them forward in the same way as catalogues or shelf space. In France, will the concept of "live shopping" follow the same path as in Asia? We have to be wary," says Mr Dahan, "because we don't have the same distribution system as China, where, given the size of the country, 80% of the population doesn't have access to the product. On the other hand, in the United States, where the distribution structures are closer to ours, live shopping is really starting to be industrialized.